Skip to Content
Bone & Joint Injuries Treatment in Conroe, TX
Are You Dealing With a Bone Injury?
Bone injuries can cause lots of pain, even if you're only dealing with a small sprain. Whenever you find yourself enduring an injury or joint pain, reach out to the team at SHSU Physicians. Our seasoned healthcare providers are here to help you restore your comfort and quality of life. We're proud to serve the Conroe, TX and Montgomery County community with exceptional bone and joint care and treatment. Make your appointment today to discuss diagnosis and treatment options.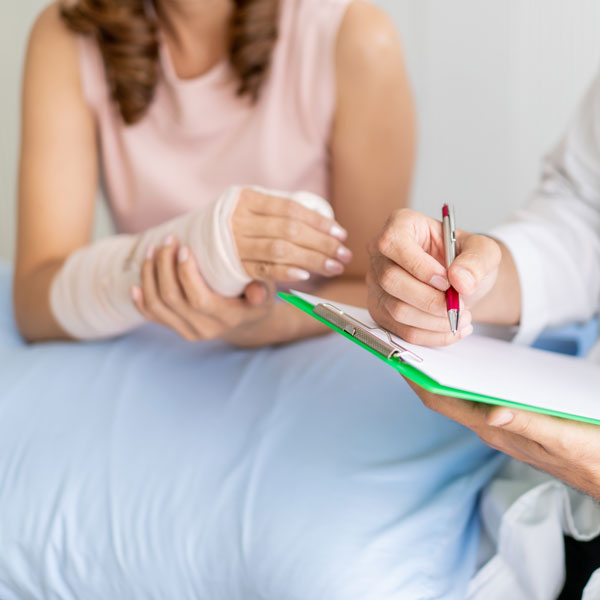 Common Bone & Joint Injuries
Bone and joint injuries and disorders are quite common. Unfortunately, these conditions tend to be very painful and can have a significant impact on your overall quality of life. The team at SHSU Physicians is well-equipped to treat a variety of these conditions. Below, you'll find a small sample of the injuries we can address. If you feel you have a condition not listed, please make an appointment anyway. Our team is here to help.
Muscle strains and sprains
Bone fractures
Dislocations
Gout
Arthritis
Osteoporosis
Meet Our Sports Medicine Specialist
Dr. Townes "Tucker" Leigh
Explore Your Treatment Options
Your treatment will depend on the cause and extent of your injury. Minor strains and sprains can typically be addressed with rest and ice. We may also recommend that you wrap the injury with a bandage and elevate it to reduce swelling. You may also benefit from over-the-counter pain medications as you recover. For more serious injuries and conditions, you may need more intense treatment. Broken bones require emergency medical assistance, and conditions such as osteoporosis will necessitate ongoing treatment.
Speak With Our Healthcare Providers
If you suspect a bone or joint injury, don't wait to speak with your healthcare provider. The team at SHSU Physicians has the experience to address your injury, whether minor or significant. Our friendly office staff will be happy to set you up with our next appointment. For broken bones and severe injuries, don't hesitate to head to the nearest emergency room!
Make Your Appointment Today
Utilize our simple online scheduling system to request your next appointment at SHSU Physicians.