Skip to Content
Family Medicine in Conroe, TX
Family Medicine Specialists
Family medicine specialists offer preventive and general healthcare services to all life stages. Family medicine physicians provide comprehensive healthcare services, which means that they treat you as a whole person, regardless of your age or sex. At SHSU Physicians, our family medicine doctors are committed to developing personal relationships with our patients, so we can work together to identify health issues and give patients the best chance of successful, healthy, happy lives. Our family medicine clinic offers comprehensive services, including diagnostic services, treatment, lifestyle counseling, health screenings, and preventive health services. Call us today to schedule an appointment with our family medicine specialists in Conroe, TX.
What Is a Family Medicine Doctor?
A family medicine doctor practices holistic healthcare. This means that they focus on treatment that addresses the patient's physical, mental, emotional, social, and spiritual needs. They believe that what affects one area of your health will eventually affect other areas as well. For instance, if you are in chronic pain, you may have trouble sleeping, working, eating, exercising, and spending time with family and friends. A family medicine physician will look for the underlying cause of your health problem, to both treat it and prevent it from recurring. Family medicine specialists undergo the same education and training as all other medical doctors and specialists, with a focus on treating patients of all ages from infancy to elderly, in all major medical areas, including:
Chronic conditions like diabetes, asthma, and heart disease
Acute problems, like illnesses, infections, pain, headaches, and migraines
Preventive care, including screening, immunization, and lifestyle counseling
Minor surgical procedures
Bone and joint care
Ear, nose, and throat care
Skin conditions
Well-woman care, including family planning
Mental health issues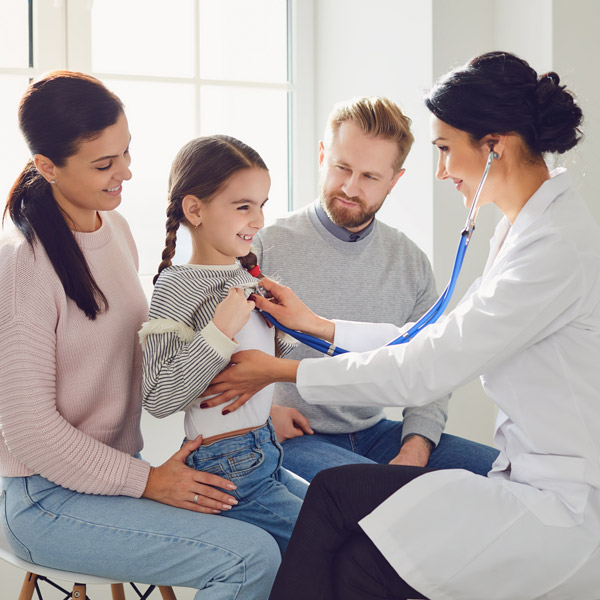 Benefits of Visiting a Family Medicine Clinic
Many families find that visiting a family medicine clinic is more convenient than visiting more than one physician who specializes in providing care to each family member's life stage. Other benefits of visiting a family medicine specialist include:
Personalized, holistic healthcare
Preventive care and early detection of health issues and symptoms
Coordinated and comprehensive care
Continuous care from the same doctor or team of doctors
Access to long-term care throughout life stages
Cost savings over visiting multiple facilities
Comprehensive care for the whole family at one building or location
Our High-Quality Family Medicine Center
Family medicine is an evolving, integrative specialty that is always changing based on the latest research, advancements, and studies. A family medicine specialist receives extensive education, training, and experience in comprehensive and continuing outpatient care for people of all ages and sexes. Our family medicine clinic has stringent qualifications for continuing education, certification, and board recertification to ensure quality at all levels of care. Our goal is to ensure each patient and family gets the care and attention they need to help them live a happy, healthy life.
Medicaid, Medicare, and Discounted Family Services
We accept all patients, whether or not they have insurance. If you don't have insurance and don't think you can afford to pay for services at our family medicine center, you can meet with our payment specialists to discuss qualifying for discounted family services. We also accept Medicare and Medicaid. Medicare is a federal health insurance program for anyone 65 years and older, or anyone who is under 65 but has qualifying disabilities or conditions. Medicaid is a joint federal and state program providing medical and health coverage to people who have limited income and/or resources.
Choose SHSU Physician's Family Medicine Physicians
Our staff is dedicated to providing comprehensive primary care services to patients of all ages. Our team of family medicine specialists is knowledgeable, compassionate, and friendly. We are dedicated to making sure that each patient gets the care they need across the spectrum of healthcare services. We have a broad range of expertise across a wide range of specialties, and we can handle all major and minor physical and mental health needs. If you need a service we don't offer, we're happy to refer you to a specialist in that area. We want all of our patients to feel informed and confident about their health, so we provide as much information as possible every step of the way.
Visit Our Physicians of Family Medicine in Conroe, TX
To schedule an appointment with our physicians of family medicine in Conroe, TX, call us today or make an appointment online. We can quickly get you set up with one of our experienced family medicine specialists and guide you on your journey to overall health and wellness.
Make Your Appointment Today
Utilize our simple online scheduling system to request your next appointment at SHSU Physicians.