Skip to Content
Osteopathic Manipulative Medicine in Conroe, TX
What Is Osteopathic Manipulative Medicine?
Osteopathic manipulative medicine is a specialty that focuses on correcting structural imbalances in the body. Doctors of osteopathy use a hands-on, non-invasive approach to diagnose, treat, and correct musculoskeletal disorders called Osteopathic Manipulative Treatment (OMT). At SHSU Physicians in Conroe TX, we specialize in osteopathic manipulative medicine. Our experienced team is an extension of the Sam Houston State University College of Osteopathic Medicine, and we are dedicated to providing the highest quality of osteopathic services to our clients, helping them overcome, chronic pain, inflammation, and mobility issues. Call us today to schedule a consultation with one of our osteopathic manipulative medicine physicians.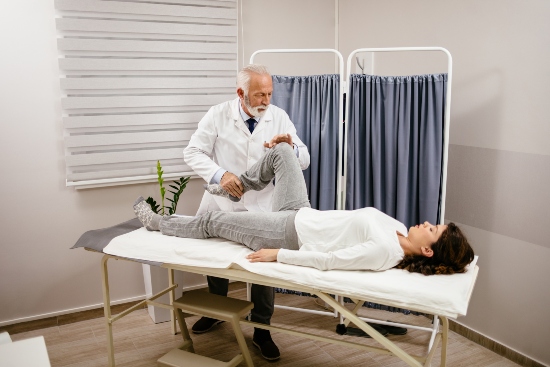 About Osteopathic Manipulative Treatment (OMT)?
OMT is a treatment method designed to reduce, prevent, and eliminate chronic muscle, tendon, or joint pain resulting from a wide range of health conditions. Osteopathic manipulation can also be used as an effective, non-invasive diagnostic tool, and as a way to prevent disease, improve bodily function and promote health.
Osteopathic Manipulative Treatment Can Provide Relief for Many Conditions
Most people consider OMT for back pain, but it is a safe, non-invasive, effective treatment for a wide range of conditions. There are very few potential side effects from OMT. The benefits of visiting an osteopathic manipulative medicine specialist for OMT are:
Reduce pain, inflammation, and stiffness
Improve range of motion and mobility
Diagnose and address structural imbalances in the spine, joints, muscles, and tissues
Improve circulation
Prevent health problems and improve the body's healing processes
Avoid or reduce the need for prescription medication
Help prevent invasive procedures/surgery
Facilitate the recovery from invasive procedures/surgery
Am I a Candidate for Osteopathic Manipulative Treatment?
Patients of all ages, from infancy to senior age, can benefit from OMT. Women who are pregnant or experiencing postpartum symptoms may visit an osteopathic manipulative medicine doctor for pain relief, improved sleep and appetite, improved energy, reduced swelling and inflammation, and improved circulation. OMT is also an effective treatment for inflammatory conditions like arthritis, muscle, joint and ligament conditions.
How Does Osteopathic Manipulation Work?
An osteopathic manipulative medicine specialist uses gentle pressure to manipulate the muscles, soft tissues, joints, tendons, and ligaments. This treatment stimulates the body's natural healing processes, promotes the release of natural painkilling hormones, and improves the alignment and balance of the spine and other structures of the body. Studies have shown that osteopathic manipulative therapy for back pain offers as much relief as other treatment methods. Osteopathic manipulation is also effective for treating:
Respiratory problems & breathing issues
Bowel & gastrointestinal issues
Chronic pain, including fibromyalgia, arthritis, migraines, headaches, and menstrual pain
Musculoskeletal problems including back pain, neck pain, joint pain, carpal tunnel syndrome and other repetitive stress injuries
Pre-and-post-natal symptoms including swelling, inflammation, sciatica, insomnia, nausea
Musculoskeletal injuries
What to Expect During an Osteopathic Manipulation Session
First, your doctor will take your personal and family health history. They will want to know about current and past illnesses, surgeries, and injuries as well as medications you take and conditions you have been diagnosed with. Next, they will ask about your symptoms, including their severity, how long they have been present if anything makes them worse or offers relief, and your lifestyle. You should tell them about your diet, exercise, activity level, job duties, sleep habits, mental health, and any other health concerns. During the examination, your doctor will fully examine you and may press on or put pressure on certain joints and muscles. They may ask you to complete certain movements so they can assess your gait, posture, balance, dexterity, and flexibility. They may recommend diagnostic imaging, such as an X-ray, MRI, or CT scan.
What Happens After Osteopathic Manipulation Treatment
After you undergo OMT, you should drink plenty of water and rest as needed. You can reduce the risk of soreness or stiffness by going for a walk but avoid strenuous exercise and activity for around 24 hours. You can return to your normal daily routine in a day or two.
Choose SHSU Physicians for Osteopathic Manipulative Medicine
Our facility offers high quality, patient-centric healthcare services with the goal of improving each patient's overall health and wellness. Our experienced osteopathic manipulative medicine specialists undergo years of education and training to provide the highest level of care for every patient. Our goal is to facilitate strong doctor-patient relationships, so our patients trust us and have confidence in us to provide the care they need.
Contact Our Osteopathic Manipulative Therapy Doctors in TX
Don't let pain prevent you from enjoying your life and taking part in your hobbies. If you're interested in finding out if osteopathic manipulative therapy is right for you, call us today or schedule an appointment online. Our osteopathic manipulative therapy doctors in Conroe, TX, offer a range of treatment options. We can create a personalized treatment plan that addresses the root cause of your pain and is safe, non-invasive, and risk-free.
Make Your Appointment Today
Utilize our simple online scheduling system to request your next appointment at SHSU Physicians.