Skip to Content
Children's Healthcare in Conroe, TX
Complete Healthcare Services for Your Child
SHSU Physicians' children's healthcare services are designed to support the physical, mental, and emotional needs of children from infancy through adolescence. With a personalized approach to each of our services and an industry-leading medical care team, SHSU Physicians is here to ensure your child receives the highest-quality of care in Conroe, TX.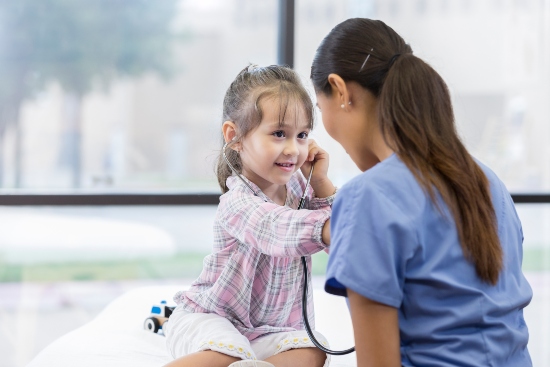 Trusted Children's Healthcare
SHSU Physicians is a lead provider of child care health services. With a deep understanding of children's unique needs, we are dedicated to providing comprehensive healthcare services that span from rehabilitation to medical treatments and injury recovery, supporting each patient's well-being and health. It's our promise to nurture and protect the health of your child.
Types of Child Care Health Services
From routine checkups to soon-to-be-parents looking for a trusted pediatrician for their new baby and beyond, SHSU Physicians provides a wide range of child care health services, including the following:
Children's primary care
Children's urgent care
Children's specialty care clinic
Children's outpatient care
Children's Primary Care
Our children's primary care serves to care for your child when they are either sick or well. From routine checkups to specialized health consultations, we provide preventative healthcare, immunizations and vaccinations, and health screenings that monitor your child's health and ensure sufficient development as they grow. Our physicians also provide treatment for acute and chronic illnesses.
Children's Urgent Care
SHSU Physicians understands that an injury or illness can arise at any time. That's why we provide children's urgent care to give your family a reliable solution when you need it most. With no appointment required, our physicians are equipped to handle the urgent care needs of your child with the utmost in diligence and compassion.
Children's Specialty Care Clinic
SHSU Physicians provides specialty children's healthcare services with an array of specialty surgeries, testing, and treatments that target a range of diseases, injuries, and conditions in our children's specialty care clinic. Our clinic was designed specifically to accommodate your child in a warm, comforting atmosphere. Many procedures can be performed in our outpatient care center, allowing your child to return home promptly following their treatment.
Outpatient Care Center
SHSU Physicians' outpatient care center for children is staffed by a team of compassionate pediatricians and healthcare professionals who strive to make children feel comfortable and safe during their time with us. From medical procedures to imaging tests and beyond, we create a joyous environment with toys, activities, events, and crafts that keep children feeling positive.
Telehealth Child Care
Finding the time to plan a trip to the doctor's office can be overwhelming and challenging to fit into your tight schedule. That's why SHSU Physicians provides telehealth child care services that enable you and your child to receive the children's healthcare resources you need with the highest standards of care and personalized attention—no matter your location.
The Benefits of Children's Healthcare
The team at SHSU Physicians is well-versed in the specific developmental stages and health concerns of children of all ages, enabling our medical professionals to provide hands-on, personalized care tailored uniquely to the needs of your child. From preventative measures to early intervention, our primary focus is promoting long-lasting health and happiness for your child.
Health and Safety Measures for Child Care Centers
The health and safety of the children we treat are paramount. SHSU Physicians abides by rigorous health and safety protocols to promote a hygienic and safe environment for your child. We follow strict protocols to prevent the spread of illness, maintaining a low child-to-staff ratio that allows for personalized attention and supervision while encouraging maximum safety.
What to Look for in a Child Health Center
Choosing the right children's healthcare center for your child is crucial. It's important to look for child care health services that prioritize the safety and well-being of your child while offering the highest standards of care with a qualified staff. That's why parents in Conroe, TX choose SHSU Physicians for their children.
Choose SHSU Physicians for Your Child's Wellness
At SHSU Physicians, we understand that finding a doctor to care for the needs of your child can be stressful. That's why our specialists work tirelessly to cultivate a compassionate, welcoming atmosphere and a lasting doctor-patient relationship. Our team of knowledgeable pediatricians strives to make you and your child feel at ease, prioritizing the best interests of your child with world-class care.
In addition to children's health services, SHSU Physicians is also pleased to provide osteopathic manipulative medicine, among our other health services.
Plan Your Visit
For reliable and comprehensive child care health services and industry-leading children's healthcare practitioners who value the health and comfort of your child, SHSU Physicians is Conroe, TX's leading choice. Contact our friendly team today to schedule an appointment and discover more about our trusted child care health services.
Make Your Appointment Today
Utilize our simple online scheduling system to request your next appointment at SHSU Physicians.